Like/Share:
by
Follow:
by
Lou Dobbs REALLY does not like Barack Obama.
Earlier, I read about a vendor at the Value Voters Summit (which is sponsored by American Values and Focus on the Family Action) who was selling the blatantly racist "Obama Waffles".
"While Obama Waffles takes aim at Obama's politics by poking fun at his public remarks and positions on issues, it also plays off the old image of the pancake-mix icon Aunt Jemima, which has been widely criticized as a demeaning stereotype. Obama is portrayed with popping eyes and big, thick lips as he stares at a plate of waffles and smiles broadly.
Placing Obama in Arab-like headdress recalls the false rumor that he is a follower of Islam, though he is actually a Christian.
On the back of the box, Obama is depicted in stereotypical Mexican dress, including a sombrero, above a recipe for "Open Border Fiesta Waffles" that says it can serve '4 or more illegal aliens.'"
If that wasn't bad enough, CNN's Lou Dobbs reportedly purchased a box and posed with the vendor: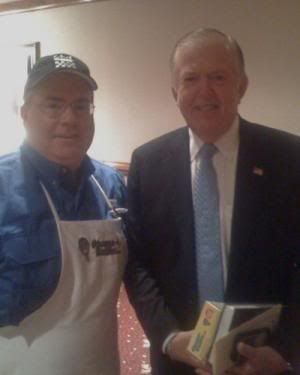 The
Obama Waffles website had a blog entry
to record the event, but
that entry was later deleted
:
I know CNN is currently very busy trying to figure out how to be "real" journalists and learn to
report on this election fairly and substantively, but they really need to keep their employees in check!
Let CNN know how you feel: contact page.